A HANDS-ON EXPERIENCE
It's been a few days since we went to the PlayStation 5 private media event organised by Sony in Singapore. It was really nice of them to extend the invite, especially in these times. Of course, with the hype surrounding the console, I was naturally very excited to see and try the console for itself. Given the circumstances of the pandemic, the event was made even more private with limited slots for guests. We were very grateful to be invited to be one of the first few in Singapore to be able to experience gaming on the console.
Reaching the Tangs Marriott hotel in Orchard Road, Melvallous and I quickly realised that this was a more intimate and private event then we thought. When we registered and got our passes, there were only two rooms, left and right each featuring 3 PlayStation 5 consoles to demo and try. Right in the middle of the hall was a photo booth with a console on display. We were told that we could try 3 games, Sackboy: A Big Adventure, Balan's Wonderland and Astro's Playroom, a game that also serves as a tech demo for the PlayStation 5. Before we talk about gameplay, photos first!
IT'S HUGE!
Ok so my first thought when I saw it. The console is huge. I'm not saying it's 'full-tower PC' huge but it definitely is bigger than any other game console I've seen. While it may present a problem for gamers who don't have much space to display their game consoles, I can't wait till the console sits nicely either in the living room or on a gaming desk. The presence it commands is obvious. It's meant to scream in your face, with its bold design that many have said well, looks like a router.
The two-tone colour design of the console keeps things interesting as well. I think this is the first time a PlayStation console sports a two-tone colour scheme. With the OG PlayStation 1 to 4, they've either been all black or white.
I got a chance to hold the DualSense™ wireless controller as well. First thoughts, the white will get dirty, only because I've a ridiculous case of sweaty palms and this controller will drown and scream at my face if it could speak. The analog sticks are textured though; a welcome addition for someone like me who struggles with grip a lot. The design cues follow the console itself with its sharper, sleeker angles instead of a more rounded design found in the previous generations of controllers. While I thought this change would affect the ergonomics of the controller, I didn't think much of it when I was playing it later. We weren't allowed to take pictures of the back and side of the console. Hence, what you see is what you get.
THE GAME EXPERIENCE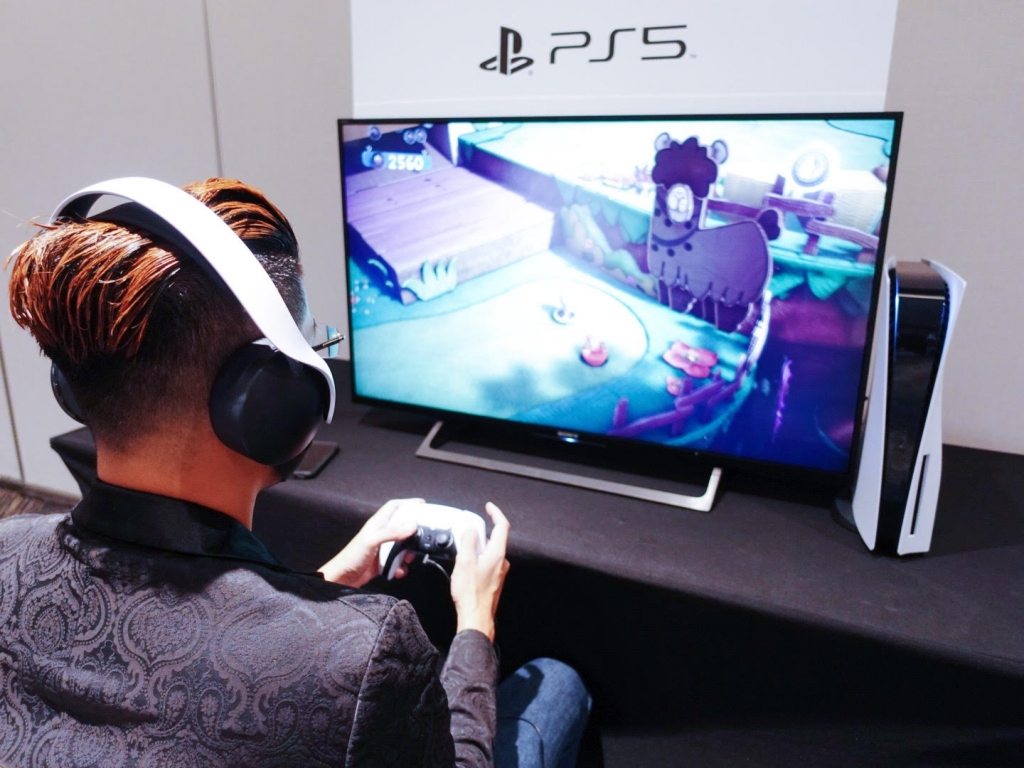 The first game that I got to try was Sackboy: A Big Adventure. For those who're uninformed, Sackboy is the main character from the Little Big Planet franchise, and my goodness is he still as cute. The controller as I expected, felt really snappy, graphics were as sharp and crisp as textures and lighting effects dazzled my eyes throughout the 15 minutes or so I had playing the game. For a platformer-type game like this, many overlook the importance of the accuracy and response of a good controller, and it feels like Sony had wanted all of us to really focus in on the features of the DualSense™ wireless controller today. One of the first things I wanted to see was the power of the console itself. Hence, I initially thought we'd get to see some really fancy tech demo showing off the CPU and GPU's potential. The fact that Sony showcased Sackboy: A Big Adventure, Balan's Wonderland and Astro's Playroom seemed to drive the focus to the experience of the DualSense™ wireless controller itself.
Speaking of Astro's Playroom, when it was my turn to try out the game, I was firmly asked to really take a seat and try it out. I knew Melvallous would have enjoyed the platformer-style games (and Balan's Wonderland no doubt since it's a new IP by SquareEnix). Hence a good part of the event was me looking at her play as well, coupled with me snapping photos and just admiring the console. Come Astro's Playroom and I was asked to sit down and a controller was thrust into my hand to experience this new game.
THE POWER OF DUALSENSE™ UNLEASHED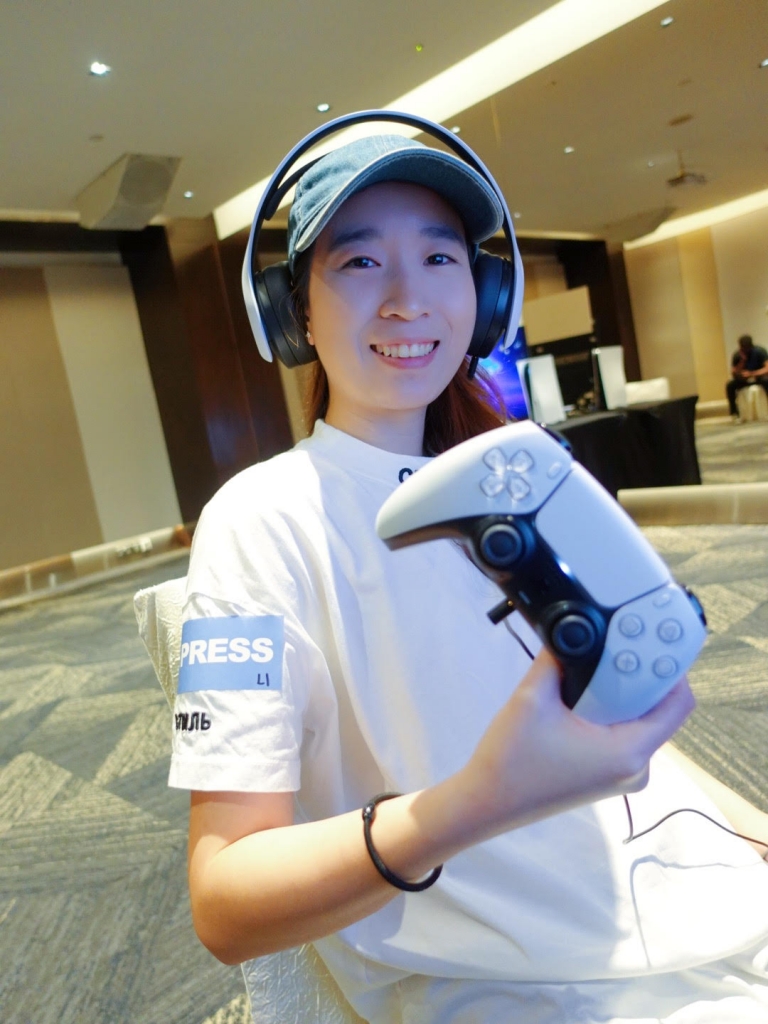 Loading into the game, I quickly realised that Astro seemed to be pegged as a PlayStation mascot, a robot with a TV as its head. The game comes pre-installed with every PlayStation 5 console. It also serves as a tech demo for the DualSense™ wireless controller, evidently so when we're treated to a full introduction of the controller and its features. Every single feature was showcased, from the adaptive triggers to the gyroscope. The next few minutes was just me geeking out about how improved and ground-breaking these features were.
As a racing fan, having that haptic feedback is a real game-changer. Being able to feel the grip of your car through your controller, the accelerometer and brake pedals interpreted into the R2 and L2 triggers accurately is truly something I'm excited about. It's a case where these features truly will improve players' lap times.
I wouldn't really go through the rest of Astro's Playroom because it truly is a remarkable experience I feel everyone should experience on its own. The easter eggs and unique gameplay mechanics are something we at Ardent will leave as a surprise for you PlayStation fans who are eagerly waiting to get their hands on a console.
---
CONCLUSION
We had a chat with the staff at the event and had some good conversations after about the iconic games that have defined our PlayStation experiences over the years. Melvallous has owned every console since the PlayStation 1. From the God of War series to Resident Evil, Spyro to Crash Bandicoot, it helped that the staff there were really friendly, and for once it was nice to have engaging conversations about such game franchises rather than the popular games everyone is playing/streaming these days.
We left the event feeling more excited than we originally came. The console looks amazing, despite the number of memes floating around. The controller stole the show for us, with good reason too. The past generations of consoles have felt like expected upgrades. Faster, better graphics, more storage, wireless capability. These changes are to be expected any form of equipment. With the PS5, it really is something else. It feels polished. It feels ground-breaking. For fans of Spider-man who are thinking of playing the upcoming game on the PS4, we at Ardent will dare tell you to hold off your virgin web-swinging experience as Mike Morales until you get your hands on a PlayStation 5. We can't wait. For those who have been lucky enough to secure a console, the PlayStation 5 releases 19 November 2020 at a price of SGD599 for the Digital Edition and SGD799 for the physical disc edition.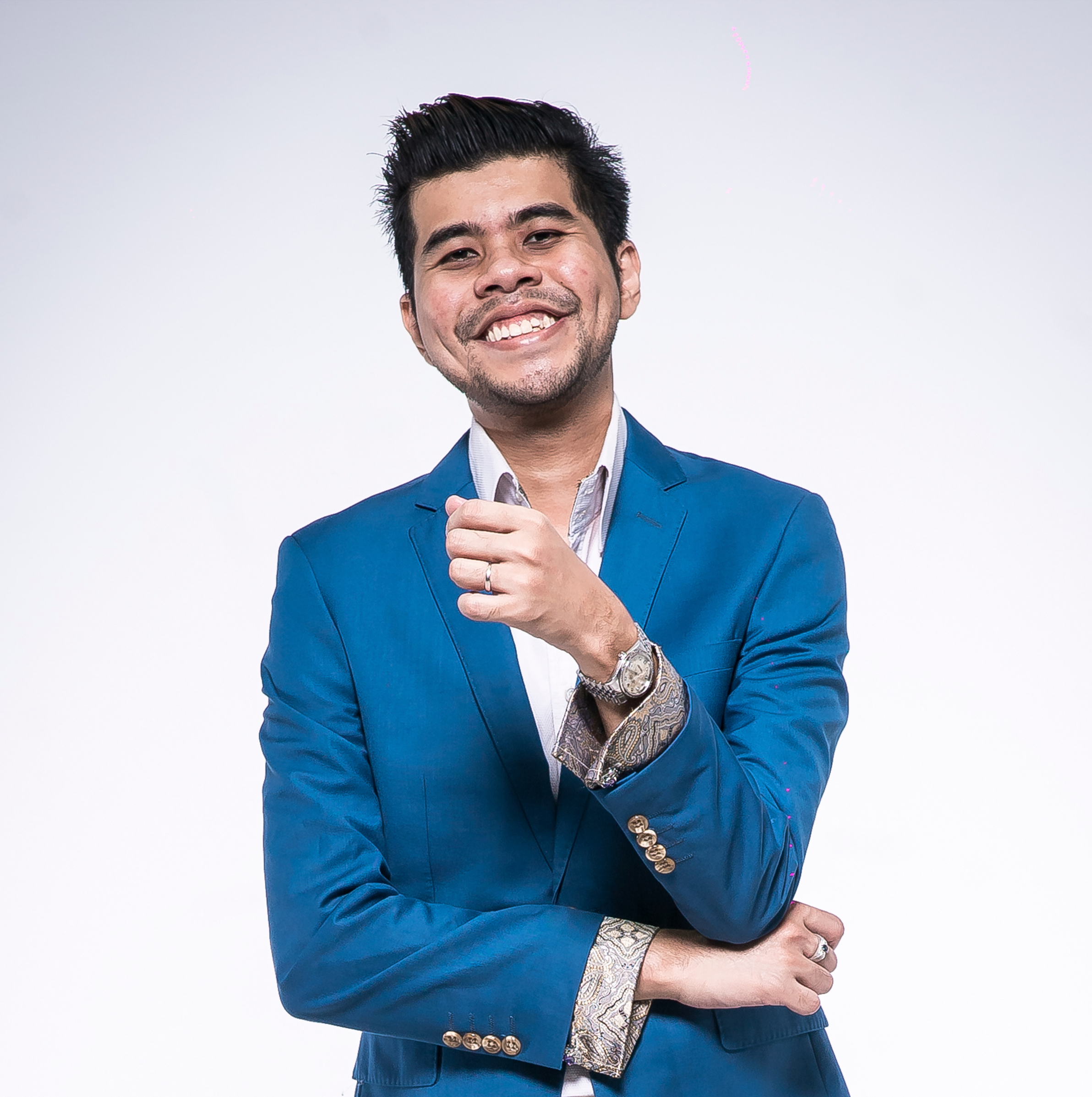 Enjoys the art of drifting, stealth-based and racing games; the latter 2 he's not very good at. His laughter puts hyenas to shame.